As a traditional form of heating, storage heaters have been a mainstay in many of our homes, but in recent years they have seen some major upgrades. With advancing technology, appliances such as these have had to keep up with the times to make sure they retain their reputation as a cost-effective heating solution, which is why there are now considerable differences between the older and newer models. Storage heaters should usually be replaced about every ten years, so you may be thinking of updating to a newer model. If so, we have all the information you could need before making the upgrade.
How do storage heaters work?
Ever since the 1960s when they were invented as a cheaper, economical heating solution, storage heaters have been the go-to option for many, particularly those on the Economy 7 tariff. They were designed specifically for this tariff as they spend all night charging, storing heat in thermally retentive bricks, ready for use the next day. This means they can run on the cheaper night-time rates, which is why they benefit those on the Economy 7 tariff, providing a more cost-effective heating system.
Old vs New
As storage heaters have been around for so long, you can imagine the number of upgrades they have been through, which is why in many ways, newer models are better than older ones. Modern upgrades such as WiFi control, 24/7 programming and adaptive start allow for better control as well as improved efficiency, to create a more sophisticated system. The table below outlines the main differences between old and new storage heaters, proving just how much they have changed over the years.
| | | |
| --- | --- | --- |
| | Old | New |
| Insulation | Over time, insulation may break down in older storage heaters and they will no longer store heat as well as they once could. | Newer versions come with more insulation which means they hold heat better so you can rely on them more than older models. |
| Design | They are bulky in appearance with an aesthetic that no longer blends in with modern properties. Design is one of the many reasons traditional storage heaters no longer make a good fit. | Storage heaters have slimmed down over the years and now replicate the aesthetics of standard radiators. Newer models are now much more discreet, whilst still offering the same level of effective warmth as older storage heaters. They also come in neutral tones to fit in well with contemporary interiors. |
| Control | Older models often come with basic controls that feature two dials: This minimal control relies on the user to predict their heating needs without making room for much change in their schedule, which is why older models often run out of warmth right when it is needed the most. | Modern storage heaters now come with more advanced controls, featuring 24/7 programming that allows you to set a heating schedule to fit around your lifestyle. This way you can avoid wasting heat or energy, which is much more efficient than older manual models. There are even smart storage heaters available that feature WiFi control, allowing you to easily manage your heating from your phone or tablet. You can adjust and monitor your heating even when you aren't at home. Some models also automatically manage their own charge, for more convenient and efficient heating. |
| Thermostats | Older, manual models do not monitor the temperature of the room, so you have to adjust the output dial yourself. | New models have built-in digital thermostats and are able to adjust on their own, ensuring rooms are always kept at the right temperature to keep you comfortable. |
What about efficiency?
As of January 2018, legislation known as Lot 20 was put in place to ensure all electric heaters adhered to the same requirements. This means that all newly manufactured storage heaters must have a 38.5% efficiency rating at the very least, so the chances are that older models are not Lot 20 compliant. Fitted with features such as 24/7 programming, adaptive start and open window detection, newer storage heaters are easily more efficient than old ones, as they have been made to save on energy and money rather than wasting it. WiFi control also helps to maximise efficiency as it enables you to check on your heating so if you happen to leave it on by accident, you can hop on the app and switch it off.
What makes a storage heater Lot 20 compliant?
All our electric heaters meet Lot 20 standards, delivering the most efficient heating system but it is worth knowing the features which make storage heaters in particular Lot 20 compliant. They should either have:
Digital charge control
Weekly programming
Open-window detection
Adaptive start
WiFi control

OR
Digital charge control
Weekly programming
Fan assist
Smart storage heaters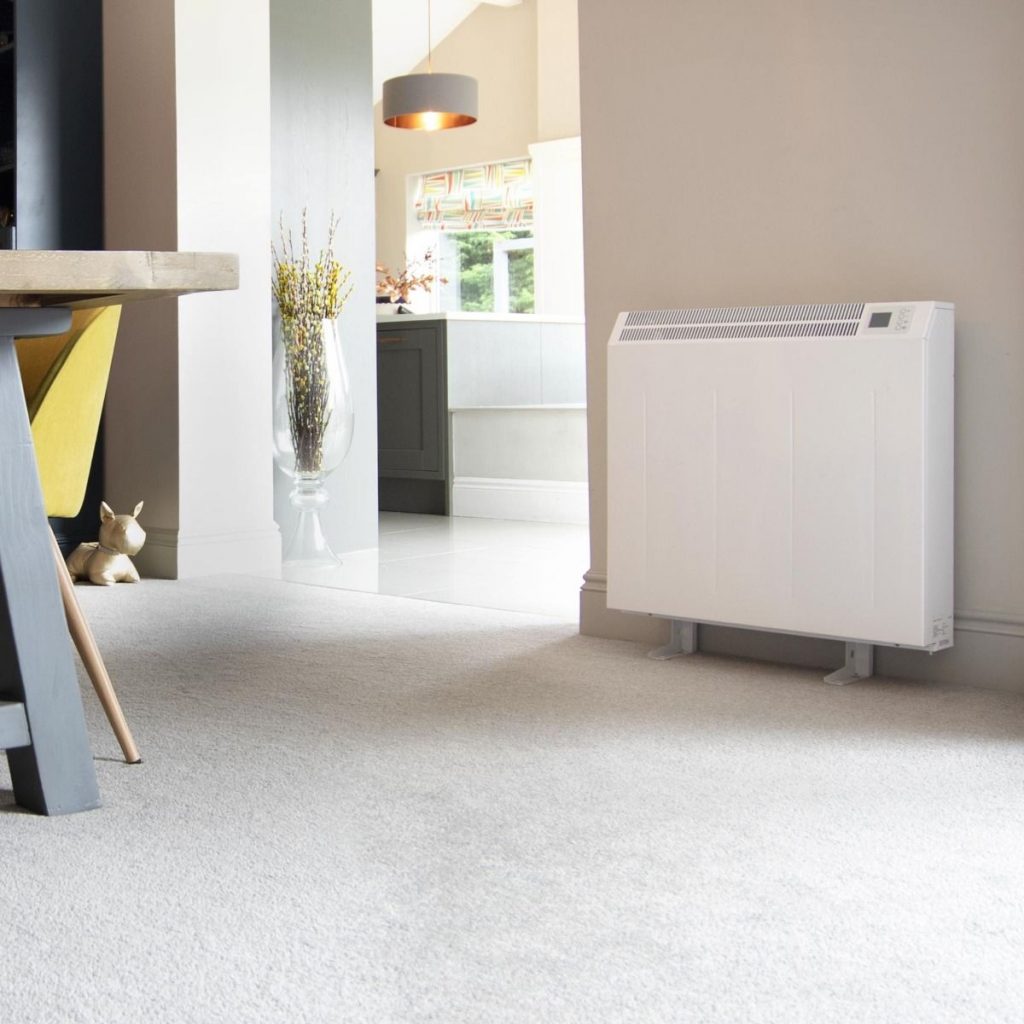 The Technotherm TTB-E Duo is a smart storage heater that provides cost-effective heating. It is fully programmable, allowing you to set a different temperature for every hour of the day to help create the most comfortable atmosphere in your home. It is a modern solution for modern homes, providing WiFi control that lets you take full control of your heating when purchasing with its optional WiFi hub. Set up a full heating schedule to fit around your lifestyle with this storage heater's 24/7 programming feature and adjust it accordingly by using your phone or tablet, even when you're on the go. The Technotherm TTB-E Duo comes with a built-in convection heater that works as an integrated backup and acts as a precaution in case it ever runs out of stored heat. As an added benefit, the venting system draws air through the heat retentive bricks whenever an extra boost of warmth is needed, so you'll never be left in the cold. These advanced features cannot be found in older models, which is why new is always better when it comes to storage heaters.
Old versus new is a common comparison made between storage heaters. Which one is better? Should I upgrade? Which is more cost-effective? Really there isn't much of a contest. Newer models are better for control, heat retention and overall efficiency which is why you should consider updating yours today.