Asbestos: one of the scarier things we learnt about in the 1970s, this naturally occurring substance has been causing trouble for decades. Once heralded as a "magic mineral," asbestos was used in pretty much everything from car brake pads to prefabricated roofing. Nowadays, we understand the true health implications behind these troublesome fibres. But in the past, manufacturers were guilty of insulating whatever they could with them, including storage heaters. Of course, today's storage heaters are free from asbestos, as they have been for decades. But how did we end up with such a toxic material in our heating in the first place?
What is asbestos & why was it used?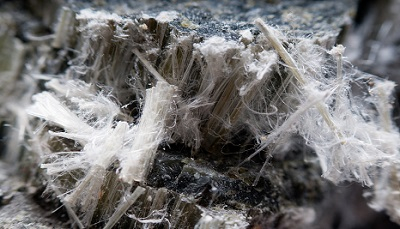 Asbestos is a group of naturally occurring silicate minerals that appear as thin, fibrous crystals. These crystals, when viewed under a microscope, are made up of millions of tiny "fibrils" that can be released into the atmosphere if disturbed. Asbestos became popular towards the end of the 19th century, after it was discovered to be resistant to sound, heat, fire, and electricity – a favourable concoction for insulation material. It was these properties that made asbestos perfect for use in storage heaters, helping to retain heat for use the following day. Shortly after this discovery, asbestos exploded onto the scene and found its way into every nook and cranny of early 20th century Britain.
Why is asbestos so bad?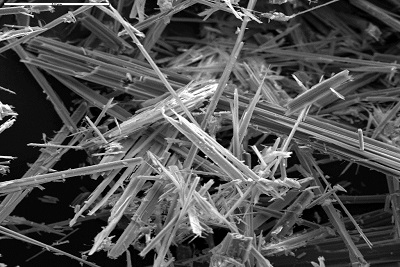 The reason asbestos is so dangerous is that the microscopic fibres can be inhaled into your body without you realising. Once there, the fibres don't go away and over time they cause irritation, scarring, and can even cause genetic damage. To make matters worse, the symptoms can go undetected for 20-25 years, so you won't even know anything's wrong until it's too late.
Because of this, asbestos is a banned substance in the UK and, due to its toxicity, any traces of the substance will need to be removed by the correct authority, equipped with specialised breathing apparatus, protective clothing, and a thorough understanding of what they're doing. Asbestos removal is notsomething you can comfortably tackle yourself.
How do I know if there's asbestos in my storage heater?
Storage heaters built before 1974 are at risk of containing asbestos. If you have a vintage storage heater, a list of the models infected with asbestos can be found here. While the list isn't absolute, we wouldn't recommend prising your storage heater apart and taking a look for yourself. If you're unsure, the best advice would be to contact the manufacturer and make an enquiry. Following that, leave well alone and turn your storage heater off: it's time to call the professionals…
Asbestos removal
Removing asbestos in storage heaters is a job for specialists. Unfortunately, this isn't a free service and some degree of cost will be incurred. But, considering the permanent health risks associated with the fibres, and the fact you can't legally dispose of the hazardous substance yourself, you must seek professional help. Our advice would be to contact your local council and seek advice, there may be a scheme you can take advantage of or a set procedure to follow. Aside from that, consider different quotes from different specialist asbestos contractors to find the most reasonable price for the work. In the meantime, if you suspect your storage heater contains asbestos, turn it off and leave it alone until help arrives.
What next?
Asbestos or not, if you have an old storage heater from the 1970s it might be time to consider an upgrade. Modern storage heaters have come a long way since the early models and 21st century economy 7 heaters come with new energy-efficient features, greater controllability, and are, of course, asbestos free. If you think you're in need of a new storage heater, take a look at two of our favourites…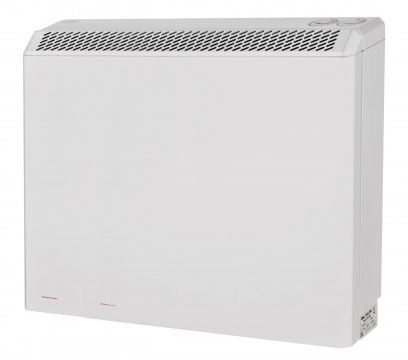 Renowned heating manufacturer Elnur have been producing storage heaters for some time now. This automatic model, the SH24, goes beyond the remit of less advanced manual versions by including an automatic charge regulator. This monitors the amount of power used throughout the day and adjusts the overnight charge rate to suit. If you use less power in the day, less power is drawn from the wall throughout the night. This intuitive feature helps to minimise waste and has the potential to slim down your monthly energy bill. This 3400w storage heater is perfect for the larger spaces in your home, such as large entrance halls, master bedrooms, dining rooms and lounges.
The Stiebel Eltron ETS 500
For ultimate storage heating, the Stiebel Eltron ETS range is unbeatable. Using the same basic principle as all storage heaters, the ETS's charge and release rate can be manually adjusted via turn dials. However, the ETS goes one step further, providing an integrated fan that kicks in if the ambient temperature drops too far – helping to circulate heat around the room and restore a comfortable level of warmth.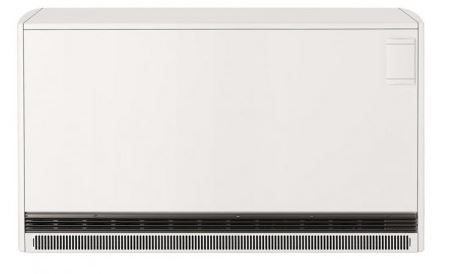 To compensate for the loss of heat that's used by the fan, fan-assisted storage heaters have double the amount of insulation than other models of storage heater. This helps to retain heat for when the fan isn't in use and ensures you won't run out of warmth early in the day. The ETS is fully insulated with thermosolid material, performing the same job that asbestos did but without any of the negative effects. This thermosolid insualtion ensures the ETS stays warmer for longer and doesn't lose too much heat from the fan as it works to increase the temperature of the room. This large, 5000w storage heater can heat an area up to 32m², perfect for large commercial interiors that need a constant level of heat.
Storage heaters remain a reliable heating system for many people. The basic premise has remained unchanged and today's storage heaters come equipped with the energy-saving features you'd expect to find on high-end electric radiators. If you need to replace your old economy 7 heaters, through asbestos-related issues or otherwise, Storage Heaters Direct has an impressive array of models for you to choose from.
Useful links
https://asbestosawareness.com.au/disposal-legalities-nsw/diy-removal-nsw/
http://www.hse.gov.uk/pubns/guidance/a14.pdf
https://www.asbestos.com/asbestos/
https://www.aic.org.uk/asbestos-disposal/
http://www.storageheaters.com/storage-heaters-asbestos.htm
http://www.asbestosservicesyorkshire.co.uk/
Image Sources
Storage heater main image:
https://www.homegroup.org.uk/Manage-My-Home/Customer-Advice/Winter-Advice/How-to-use-Storage-Heaters